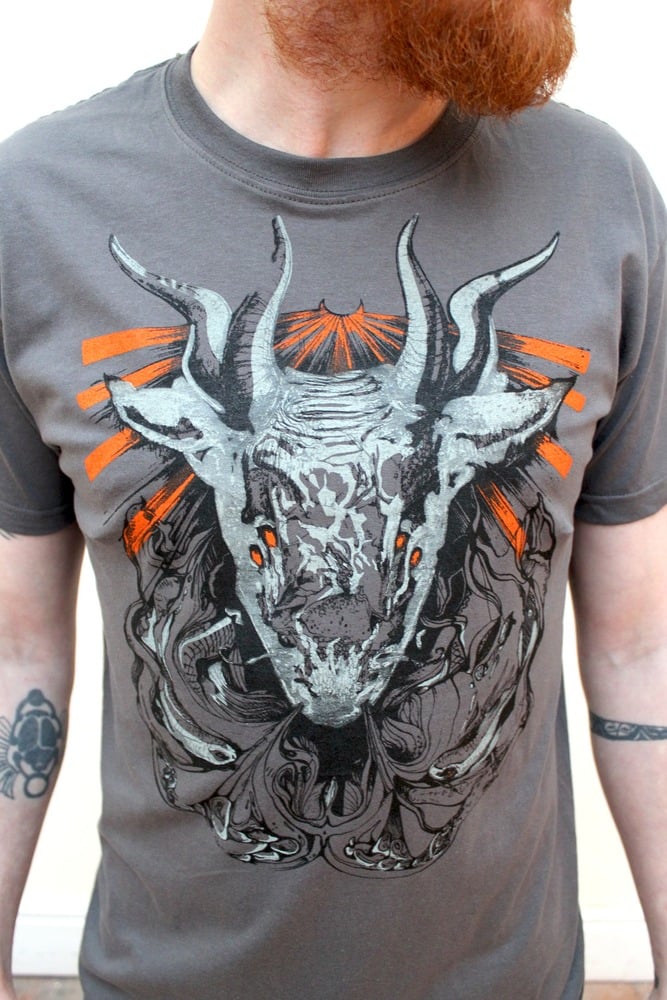 'The Bull' by Anna Giersz - Cabalista (Nov 2012)
€

30.00
---
---
The first limited edition t-shirt in the Cabalista project is a three colour screen print of 'The Bull' by Anna Giersz.
Printed in orange, light grey, and black, on supersoft 100% cotton dark grey t-shirts.
Available in standard t-shirt and capped sleeve options (select in dropdown menu).
Only 33 prints produced. Only available through Print Cabal.

Pictured sizes: Standard size medium, Capped sleeve size small
All orders ship within 48 hours.
For more information on the Cabalista project, see below.
____________________________________
Cabalista (noun) : [kab-uh-list-ah]
schemer, associate, member of a secret society or cabal
Every month, Print Cabal runs the Cabalista project. We pick an artist, work with them to select one of their pieces, and produce a limited edition run of screen prints. Some artists work will be on t-shirts or other wearable items, some will be high quality art prints. It will vary month-to-month.
Our first Cabalista is Anna Giersz, a Polish artist, illustrator, and photographer currently living in Cork. She has worked
with The Key and the Gate on posters for bands including The Ocean, Brains, and Tragedy, as well as t-shirt designs for People of the Monolith and Absolutist.
http://annagiersz.com/
You can read our interview with Anna on the Print Cabal blog:
http://www.printcabal.blogspot.ie/2012/11/anna-giersz-cabalista-november-2012.html